Birmingham Jewellers and Silversmiths Association (BJSA) founded. Formed by local companies concerned with various problems in the jewellery trade, including crime, training and the poor state of business.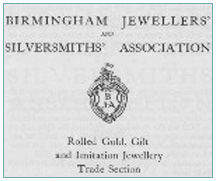 First offices rented in Augusta Street for £20 per year. Moved to Frederick Street in 1910.
The Association formed a territorial army company in First World War called the Jewellers Company.
A Trade Gazette is published which proves to be most popular.
The Trade Gazette is expanded into a complete trade magazine called Birmingham Jeweller. The first issue came out in August. By December the name had changed to the British Jeweller.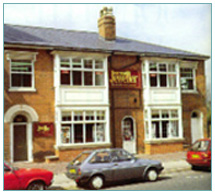 Extraordinary General Meeting agrees to change the name to British Joint Association of Goldsmiths, Silversmiths, Horological and Kindred Trades – known as BJSA
The Fancy Goods Association is incorporated and changes its name to Giftware Association in 1966.
BJSA becomes involved with organising exhibitions, with the Fancy Goods Association organising a trade fair at Harrogate. This fair grew to take over the whole town and so was subsequently moved to Blackpool.
The Joint Associations National Council formed a small private company to organise the Blackpool Gifts Fair. This was called Trade Promotion Services Limited (TPS)
Granted right to use Coat of Arms by College of Heralds. (Pictured right)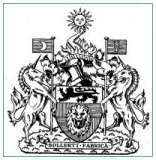 BJA provide grant for the silver collection. First pieces commissioned were a silver ceremonial inkstand and a silver mace – on display in the library at Federation House.
Percy Sweeter London Regional Secretary of the Joint Associations leaves to concentrate efforts on TPS after being involved in setting up the company.
Extraordinary General Meeting votes for a resolution which turns the Joint Association into the British Jewellery and Giftware Federation.
British Jewellery and Giftware Federation commences operation.
TPS book the very first exhibition at the yet to be built National Exhibition Centre. This makes TPS the first company to book the entire NEC.
First International Spring Fair held in February. This replaces Blackpool as the major gift fair in the UK.
Federation moves to purpose built headquarters at 10 Vyse Street.
British Jewellery and Giftware Federation Changes its name to British Jewellery, Giftware and Finishing Federation.
British Jewellery, Giftware and Finishing Federation changed its name to British Allied Trades Federation – the more neutral name was selected to encourage new trade associations to join the Federation.
National Association of Jewellers (NAJ) is formed by the unification of two long-standing UK industry bodies: The British jewellers' Association and the National Association of Goldsmiths.